Guide dogs & blindness
Ali Pearce – Public Speaker, Educator & Guide Dog Handler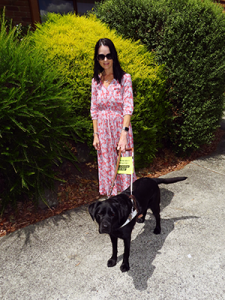 Do you know someone who has a guide dog or other service animal? Have you ever wondered what the rules and protocols are around a guide dog? Would you, your school, club or organisation like to know more? Would you like to have a friendly face and experienced guide dog handler visit you?
Ali Pearce is an accomplished guide dog handler with over 10 years' experience collaborating with guide dogs Victoria and handling guide dogs. She lives in regional Victoria but regularly visits the city. Ali and her loving companion, Leah have been together for two years. Leah guides Ali around the city and suburbs, avoiding obstacles, managing steps, using escalators and elevators. Leah also helps Ali to travel on trains, buses and trams. Lea has even helped Ali getting on and off ferries and boats in other cities. They even go on aeroplanes together.
Ali is very comfortable speaking too small and large audiences, these include people of all ages, Kindergarten, school groups, business groups, Probus clubs and senior-citizens.
Ali worked for the former Dialogue in the Dark tourist attraction in Melbourne running tours and groups through a completely darkened environment simulating attractions around Melbourne and getting people to find their way around in the dark while enjoying a scintillating commentary and verbal presentation of the experience.
All journeys are different. Ali is happy to tell you about her own personal journey living with low vision and blindness.
Ali has a very friendly nature, and she is always willing to engage her audiences in a very friendly and supportive way.
If you would like to have Ali visit you, your club, school or organisation, please contact us on
Phone: 0416 988 609 or
Email ali@dataaustralasia.com.au
Access technology
Elise Lonsdale – Independent Access Technology Specialist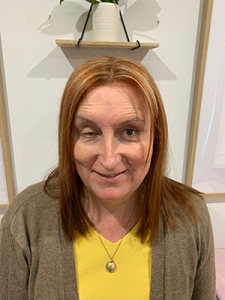 Do you know someone, perhaps a family member who is experiencing changes in their vision? Have you ever wondered how people who have low vision, or a blind manage their technology? Have you ever wondered how they perform simple tasks like making a phone call, sending an email, looking at the Internet or do their social media like Facebook?
We do this with regular devices running access technology, access technology can make the computer, a smart phone or tablet speak what is on the screen, enlarge the text and even make it respond to voice commands.
Elise Lonsdale has been an Access Technology Specialist for over 10 years. She has trained people through the former Cisco Academy for the Vision Impaired. Also, Elise worked at VisAbility in Western Australia, Blind Low Vision NZ, formally Blind Foundation New Zealand and Vision Australia here in Melbourne. 
In the last 3 years, Elise Lonsdale has founded Disability & Assistive Technology Access Australasia, (DATA Australasia), and now enjoys working with a diverse group of her own clients and NDIS Participants.
Elise and other likeminded freelance blindness professionals have founded the Blindness and Beyond network which is a referrals based network of independent professionals offering specialised supports to people who are blind or have low vision on the NDIS.
Elise also holds a position with the Statewide Vision Resource Centre in Victoria. In this position Elise works with children who are blind or have low vision. She also assist staff and visiting teachers in the use of access technology and similar devices.
Elise is an accomplished Toastmaster with over 15 years' experience in public speaking. She is skilled and speaking to small and large audiences alike.
Elise is happy to speak about her own personal journey with blindness and low vision.
Contact Elise on
Phone: 0448 966 533 or
Email her at elise@dataaustralasia.com.au if you would like her to visit your club, school, business group Probus club or senior citizens group.