Welcome to DATA Australasia
DATA Australasia is an independently owned Access Technology Support business in Melbourne Australia. We serve the needs of people who are blind or have low vision. We visit our clients in the home and remote support is also available.
If you have found this website by looking for Lonsdale media, please be aware that Lonsdale media has ceased operation and is now data Australasia.
With the right support and training, Elise Lonsdale and DATA Australasia can help you to get the best out of your access technology.
Technology holds the key to success for people who are blind to access information. Access Technology can help you to work, study and  participate in the community.
Information for NDIS Participants & Plan Managers
We work under the NDIS Support Item Reference Number: 01_741_0128_1_3. This is the itemAssessment Recommendation Therapy or Training Supports – Other Professional – Assistance with Daily Life. This is Access Technology Support & Training for people who are blind and have low vision.
NDIS Participance may also claim this under their CB daily activity dropdown on when making a claim on the portal.
DATA Australasia also works with people who are self funded or funded by MyAgeCare.
Elise Lonsdale is an Access Technology Specialist. Elise can support you in your own home, workplace or via an online video conference. Please see our About DATA Australasia page.
Students
Primary, Secondary and Tertiary Students can all benefit. You can have access to devices which can magnify or speak text from either a computer or video magnifier. 
With modern Access Technology, you can study, go online, conduct your research, join Facebook groups and read and learn at a pace that suits you. 
Employment
Technology helps everyone to do their job and enjoy their work. Employers benefit from having someone who is able to perform their role. You can do so knowing that you have the necessary supports in place. 
Inclusion
Being able to use social media, email and to simply make a phone call goes a long way to enhancing the lives of people who are blind or have low vision.
Retirement
Access Technology can enhance the quality of life for people who are experiencing sight loss in their older years. Keeping in touch with friends, family and those who are important helps to make you feel included and gives you a chance  to participate in the community.
Training
If you are unsure how Assistive Technology works, then DATA Australasia can help you. We have a number of courses designed to help you to learn how to use the technology and get the best from it. Please see our Services Pages for more 
Elise Lonsdale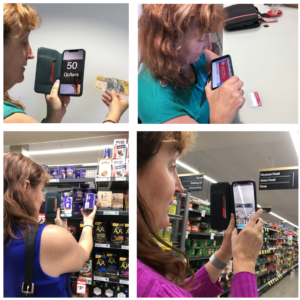 Elise Lonsdale has ben an Access Technology Specialist for over 10 years. She has trained people through the former CIScO Academy for the Vision Impaired. Also, Elise worked at VisAbility in Western Australia, Blind Low Vision NZ, formally Blind Foundation New Zealand and Vision Australia here in Melbourne. 
Recently, Elise has been working with the Statewide Vision Resource Centre. In this position Elise works with children who are blind or have low vision.
10 years ago, Elise was the club president of the Glen Waverley Toastmasters Club in Melbourne, PN Advanced Toastmasters in New Zealand.
In New Zealand, Elise was an Area Director in charge of four Toastmasters clubs in the lower north island. Since leaving New Zealand the  District has reformed and is known as Toastmasters D112.
Elise holds an interest in two online Toastmasters clubs, Ablaze Advanced Online Toastmasters based in Auckland New Zealand and Toastmasters Without Borders based in Melbourne Victoria Australia. Both clubs actively encourage Toastmasters from around the world to join and participate. 
In May 2019, Elise Lonsdale was elected as the current Vice President of the Apple Users Society of Melbourne, (AUSOM). In this role Elise can increase awareness of Apple Products and their inbuilt integrated assistive technology.   
Elise still has her web development business, Lonsdale Media which builds accessible websites.
Elise Lonsdale can also bee found on Facebook, Twitter, YouTube, LinkedIn and Instagram.